Welcome to Kingfisher Park Birdwatchers Lodge, Julatten, Queensland, Australia.
Kingfisher Park Birdwatchers Lodge is a small family-run business set in an internationally renowned private sanctuary. The Lodge offers accommodation to bird-watchers and other nature lovers from mid April to mid January. The property is owned and operated by professional guides and naturalists Carol and Andrew Iles, who have worked in the area since 1999. Set in Tropical Far North Queensland, one of the best birding areas in Australia, the Lodge is especially famous for its population of breeding Buff-breasted Paradise-Kingfisher which are found in the grounds between November and April.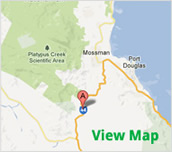 Kingfisher Park Birdwatchers Lodge is located in the rural community of Julatten, at the base of the Mount Lewis range at an altitude of 440m. It is an easy 1½ hr drive from Cairns International Airport and 40 minutes from Port Douglas.
The Lodge is a Land for Wildlife sanctuary with good populations of birds, mammals, reptiles and plants. Almost 240 bird species have been recorded within a 1½ km radius of the Lodge and its grounds. All of the 15 Wet Tropics endemic birds can be found within a 15km travel distance and well over 400 species of bird have been identified within an hours drive of the Lodge. For detailed information about what you are likely to see on your visit go to the birds and other wildlife or bird species pages where you will find a link to access this data.
Things to note before you continue. There is no public transport to the Lodge and we cannot do transfers therefore you will need your own transportation to get here. We are just off Highway 44 so you do not need a 4WD. Because we try and maintain a peaceful atmosphere we do not allow children under the age of 12. We do not accept day visitors as our guests come first. There is no camping area.
The Lodge and its grounds will be closed for the 2023 Wet season from 16th January until 8th May 2023.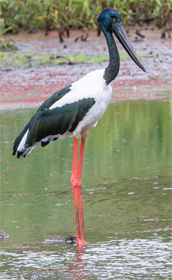 ACCOMMODATION at Kingfisher Park Birdwatchers Lodge comes in three types: 4 spacious self-contained units, 2 larger, more private 2-bedroomed Villas, and our basic option of a 3-room bunkhouse. This is all set in a rainforest block, with walking tracks allowing easy access around the 4.5 hectares (11.2 acres) of grounds. Because we only operate a small number of rooms it means that we can maintain a peaceful atmosphere around the property, even in the busy season.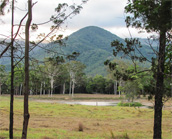 A minimum stay of 3 nights is recommended to allow time for a full exploration of the area around Julatten, Mareeba, Mt. Molloy, Maryfarms and Mt. Carbine which contains some of Tropical Queenslands main birding sites . There are many types of habitat within an easy driving distance of the Lodge which means you have a good chance of encountering most of our local bird species.
Kingfisher Park Birdwatchers Lodge's central location allows day access to other birdwatching areas of Tropical North Queensland. Daintree Village is less than an hour away and has specialised birdwatching river trips on the Daintree River. In the same area you can visit Cape Tribulation by crossing the Daintree River by ferry, look out for Cassowary when driving to the Cape. Other good areas nearby are the Atherton Tablelands (Cairns Highlands), the Great Barrier Reef, with boat trips available from Port Douglas or Cairns, and of course you could visit Cooktown, which is only a 2½ hr drive away. If you want a break from birdwatching shopping and coffee await in Port Douglas, only 40 minutes away.
Birdwatching and natural history tour groups are catered for so please e-mail us for further information.
Your hosts, Carol and Andrew Iles, aim to promote the enjoyment of bird watching, the appreciation of nature and to give guests a relaxing and rewarding birding and natural history experience in Tropical North Queensland. This is why we live where the birds are.
FOR BOOKINGS OR GENERAL ENQUIRIES PLEASE USE OUR ONLINE BOOKINGS FORM.
On Facebook ask to join Queensland Birding group, and like our page Kingfisher Park Birdwatchers Lodge.
We support Birdlife Australia, BirdLife Northern Queensland and Australian Wildlife Conservancy